2 years ago
S1E6 - Rivalry II
Chemistro's back! just in time to be attacked by a mushroom!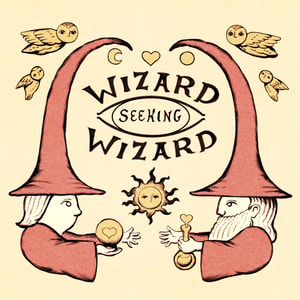 Chemistro is back, baby! And he's using a second round of Rivalry ads to move this sphere on out! Or he would be if he wasn't UNDER ATTACK BY THIS DANG MUSHROOM GOLEM
Will Constella the Almost find the rival that she has foreseen? Will Astrophel, Wizard Of the Stars find a rival to race to space? Will Antal Bloodbelly find an equal in combat? And will Viggo the Vavare untie the knot around his heart?
Not to mention, how did Tippy and Tashlynda end up forming a jam band that runs on human souls?
Go to @wiz4wiz on twitter after the show or click here to vote on which wizards will date. Transcript Here
This episode was written by Marc Campasano and Max Kreisky, and sound designed by Tal Minear (@starplanes)
Our wizards this week are: Constella the Almost, written and performed by Lex Lewis (@serlexalot), Astrophel, Wizard Of the Stars, written and performed by Tal Minear (@starplanes), Antal Bloodbelly, written and performed by Damien Crawford (@developerdamien), Viggo the Vavare, written and performed by Stephen Cole (@nemospecific ),Tashlynda the Tenacious written and performed by Hannah Wright (@chemicallywrit), and Tippy Germaine, written and performed by Grace Gist (@g2_lpi)
The ad in this week's episode was Tabletop Squadron, an Edge of the Empire actual play podcast (@tabletop_squad)
Every wizard personal ad in this show was written, performed and recorded by a member of the community. There may be some explicit language and variable audio quality.
Content Warnings for this episode: mayhem, mushrooms
If you'd like to support the show, you can back our patreon or we also have a teepublic store!