3 years ago
S1E3 - Collaboration
Chemistro has a visitor in the sphere. Well, outside the sphere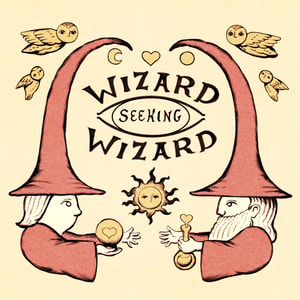 Collaboration
Ooops! Our hosting somehow sped up the audio on release this morning but it should be back to normal in this version! Please, enjoy the normal speed Wizard Seeking Wizard
To stay sane in his crystal prison, Chemistro the Match Mage has put out the call to wizards across the multiverse. Wizards that want to meet other wizards! This episode we have a visitor to the sphere, and we help wizards looking for collaborators to find a study buddy.
Will Minefestina be able to close the book on her portal problem? Will Mashboo the Formerly Shifty find someone to trust him again? Will Clatelon the Gilded Wizard of Bindings be able to find a co-parent for his many large and skeletal sons? Will Meregund the Transfigurer be able to teach someone to transform him back from being a pot of flowers?
And we hear how Impervion and Flora's rivalry date to the Big Wiz state fair went.
Go to @wiz4wiz on twitter after the show or click here to vote on which wizards will date!
Transcript here
Our wizards this week are: Minefestina Rivenwobble, written and performed by Aidan Kezierski, Mashboo the Formerly Shifty, written and performed by Bibek Gurung (@illbibek) Flora Bunnyhop, written and performed by Julia Rios (@omgjulia), Impervion the Imprecise, written and performed by Nathan Comstock (@nathanacomstock), Clatelon the Gilded Wizard of Bindings, written and performed by David Fouhy, and Meregund the Transfigurer, written and performed by Marc Campesano
Our ad was for Crowley Time with Me, Tom Crowley, an audio sketch show of the absurd, that we highly reccomend.
Every wizard personal ad in this show was written, performed and recorded by a member of the community. There may be some explicit language and variable audio quality.
If you'd like to support the show, you can back our patreon or we also have a teepublic store!